The new Wi-Fi thermostats BS-850/KIT & BS-851/KIT of OLYMPIA ELECTRONICS S.A. give full control of the house's temperature from anywhere, through the mobile phone, tablet and computer remotely through the Internet. More specifically, it is possible to monitor the temperature and functions of the thermostats at any time. They are programmable for ease of use and fully customizable to meet all needs.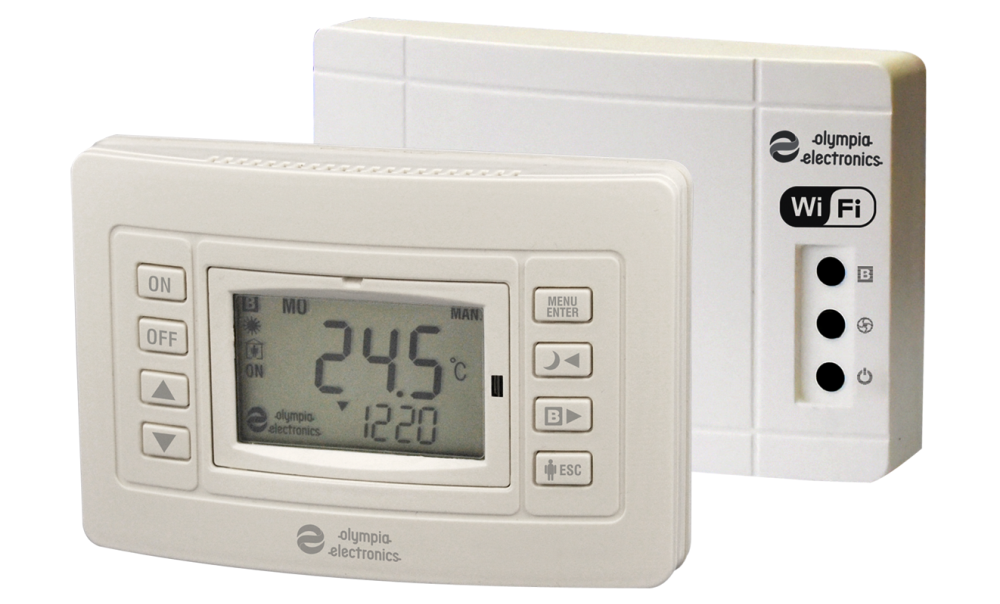 Through the android app, the user can easily and quickly make modifications to the current settings whenever needed. It can remotely switch off and on the radiator or boiler so it can be always warm when needed and to save energy.
You can download our app for android or iOS by clicking the icons below.
The new products offer:
Ease of installation, as the cabling does not need to go into the house because it is a wireless thermostat.
Ease of operation, as it can be controlled either from the main screen or from the mobile app via Internet.
Ability to control multiple thermostats from the same smartphone, e.g the country house.
The basic technical features of Wi - Fi thermostats are as follows:
| | |
| --- | --- |
| Powered by |  2 Alkaline ΑΑ |
| Consumption | - |
| Measuring range | 0.0 to 99.9°C |
| Temperature Selection Range |  6.0 to 30.0°C |
| Communication Frequency | 869,75MHz |
| Degrees of cover protection | IP 20 |
| Produced in accordance with | EN 61000-6-1, EN 61000-6-3, EN 60730-2-9 |
| Operation temperature range | 5 to 35 °C |
| Relative humidity |  10- 90% RH |
| External Dimensions | 121,5 x 27,3 x 81,3 mm. |
| Typical weight | 175 gr. (with the batteries) |
| Guarantee | 2 years |
With the new Wi Fi thermostat, OLYMPIA ELECTRONICS SA launches its entry into the "Internet of Things" (IOT), which is a key technology of the Industry 4.0 and the 4th Industrial Revolution.
Olympia Electronics always has as its main objective to give the Greek market and installer modern solutions by producing new products that combine quality and competitive prices.