Limited lifetime warranty
All ADVANCE+, SIGMA+ and ELECTRON E15 lightning rods manufactured by AIDITEC SYSTEMS, S.L. since November 1, 2018, have a limited (international) lifetime warranty against any manufacturing defect.
A manufacturing defect is understood to be any damage that occurs to the lightning rod during its production and not due to wear or a lightning strike with an energy greater than that established in the UNE 21186:2011 standard. This guarantee is limited to the replacement of the collector head, if applicable, and not the rest of the installation components, but it is necessary, for the lightning rod to function correctly, that the rest of the protection system is in perfect condition in accordance with the current regulations.
THIS WARRANTY WILL NOT BE VALID UNDER THE FOLLOWING CONDITIONS:
When the use, care and operation of the product has not been in accordance with current regulations.
When the protection system that accompanies the lightning rod is not in perfect condition in accordance with current regulations.
When any unauthorized modification is made to the design of the devices.
When the product has been used outside its capacity, hit, exposed to adverse conditions, as well as any other fault attributable to the consumer.
When the product has been disassembled or modified by persons not authorized by AIDITEC SYSTEMS, SL
When the failure is caused by normal wear and tear due to the proper functioning of the lightning rod.
When the lightning protection system does not present the preventive or corrective revisions with the frequency indicated in the current regulations and the documentation is not signed and stamped in the revision reports.
To process the guarantee, you must contact AIDITEC SYSTEMS, SL through the form specifically created at the bottom of this page.
AIDITEC SYSTEMS, SL formally undertakes to check the status of the damaged collector head free of charge and to prepare an analysis of the cause of the problem, temporarily making a replacement unit available to our brand representative until the cause of the problem is determined. issue. If a manufacturing fault is detected, the equipment will be replaced immediately.
It is the responsibility of the customer or representative to return the damaged equipment, protecting it in the most appropriate way so that it does not suffer any damage during transport that prevents the root of the problem from being verified, thus voiding its guarantee. The costs of said packaging and shipment of the equipment are borne by the client or representative of our brand.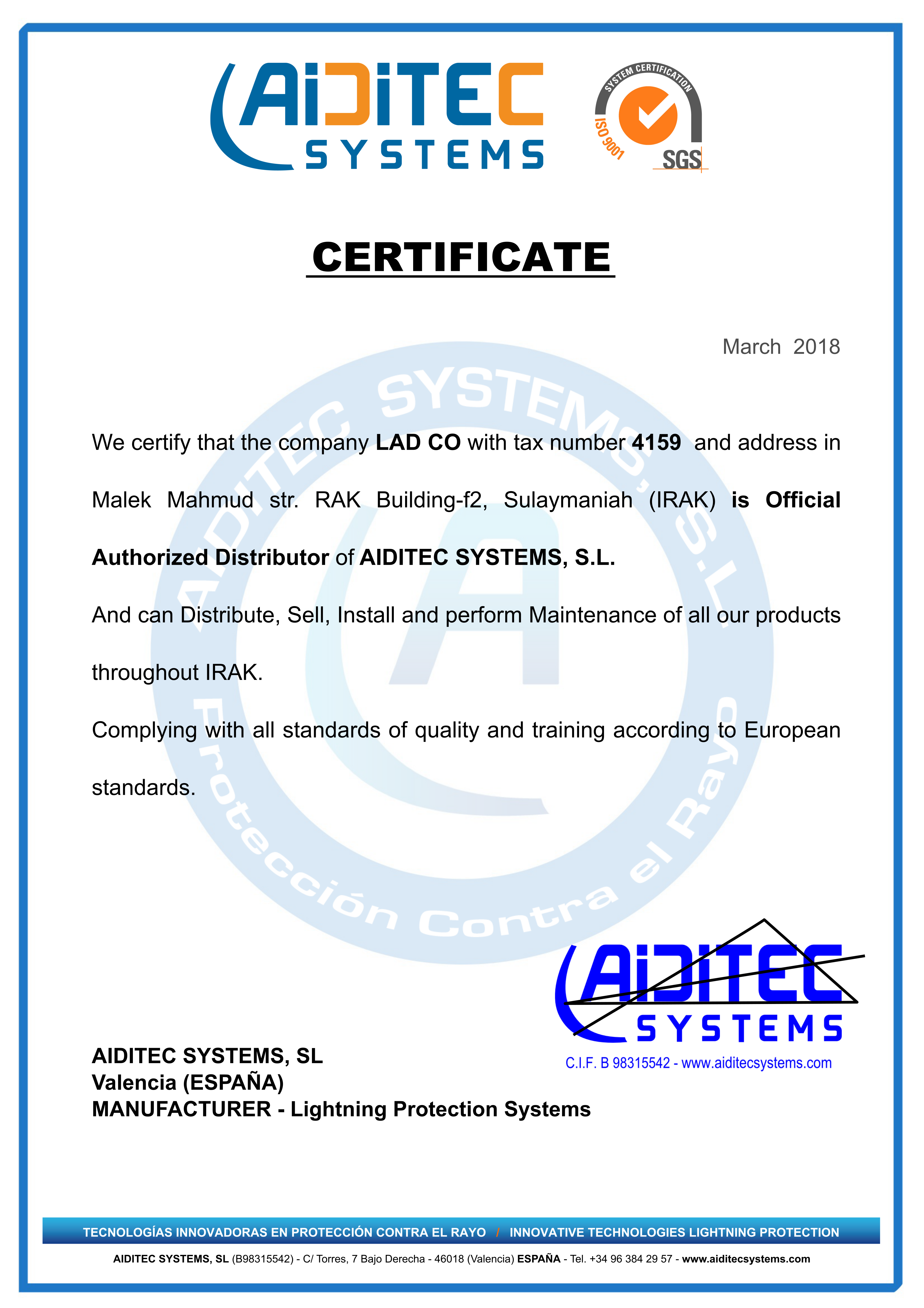 Distributor Certificate